Algaia published the results of its gender equality index this month. With 91 out of 100, the company is ranking amongst the best performers in France. The index is calculated by all the French companies using four main indicators.
"At Algaia, people is our most important asset." declared Fabrice Bohin, Algaia's CEO." Our company is global and we want our team to be as diverse as possible in gender, in experience, in nationality. This is our way to go beyond traditional boundaries. We actively promote diversity at every level of our organization, from operators to executives. "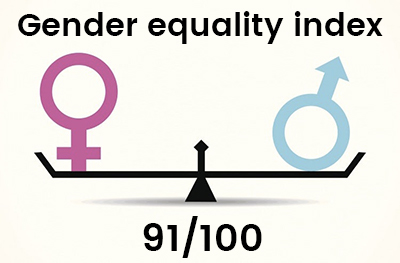 Reflecting its long-term attention to gender equality, Algaia got the highest marks for equality in individual salary raise and percentage of employees who had a raise after maternity leave. The company lost some points due to a gap in salary in favour of women with higher wages at technician level. However, this gap turns in favour of men at executive level. Some room for improvement also for female executive with only 30% women among the 10 highest wages within the company.
Version française
Algaia parmi les entreprises françaises les plus performantes pour l'égalité hommes-femmes
Algaia a publié les résultats de son indice d'égalité homme-femme ce mois-ci. Avec 91 sur 100, l'entreprise se classe parmi les plus performantes de France. L'indice est calculé par toutes les entreprises françaises sur la base de quatre indicateurs principaux.
"Chez Algaia, nos employés sont notre atout le plus important." déclare Fabrice Bohin, PDG d'Algaia, "Notre entreprise est mondiale et nous voulons que notre équipe soit la plus diversifiée possible en termes de genre, d'expérience, de nationalité. C'est notre façon de sortir du cadre des frontières traditionnelles. Nous faisons activement la promotion de la diversité à tous les niveaux de notre organisation, depuis les opérateurs jusqu'aux cadres. "
Reflet de l'attention portée depuis longtemps par Algaia à l'égalité des sexes, l'entreprise a obtenu les notes les plus élevées en matière d'égalité des augmentations individuelles de salaire  et de pourcentage d'employées ayant eu une augmentation après un congé de maternité. L'entreprise a perdu quelques points en raison d'un écart de salaire en faveur des femmes qui bénéficient de salaires plus élevés au niveau des techniciens. Cependant, cet écart tourne en faveur des hommes au niveau cadre. Quelques améliorations restent également encore à faire pour les femmes cadres, avec seulement 30% de femmes parmi les 10 salaires les plus élevés de l'entreprise.