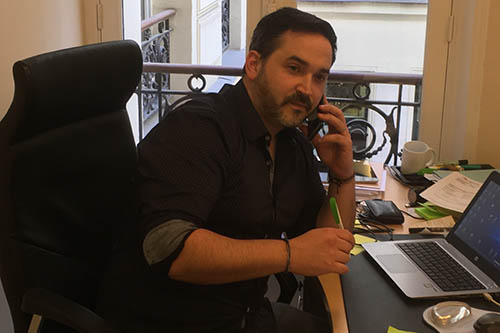 IMPORT-EXPORT ASSISTANT/
ASSISTANT(E) IMPORT-EXPORT
Contract: Permanent

Location: Paris, France

Category: Supervisor

Reporting line: Customer Back Office Coordinator

Working hours: 169h/month – Monday to Friday

Position Available: Immediately
GENERAL ASSIGNMENTS
Within the commercial department of ALGAIA, ensure for his/her area of ​​responsibility,  the administration of sales / purchases / supply and sales management in agency – distribution of products of our Chilean partner. The Customer Back Office team is composed of 4 multilingual team members who enjoy working in an exciting context, around a product with multiple applications.
DAY-TO-DAY OPERATIONS
Prepare the imports in collaboration with our Chilean partner (container, groupage, sampling)
Buy Carrageenans
Manage and control stocks: bonded stock, customs penalties follow-up (Spain, Brittany)
Enter the orders to be fullfilled with SAP ERP
Give transport instructions
Proceed with customs clearance and invoicing
Track costs and restart payments
Update customer database
CRM Hubspot
These assignments are not exhaustive, it is possible that in connection with the performance in the aforementioned functions, they may evolve or be modified according to the interests of the candidate !
PROFILE & QUALIFICATIONS:
2 year higher education(BTS, Export Assistant)
Spanish and English fluent
Knowledge of international trade rules (incoterm, documents)
Experience in an import-export department desired (beginner application studied)
Knowledge of ERP SAP is a plus
Knowledge of the industrial / agri-food environment is a plus
SOFT SKILLS:
Team spirit, cheerful personality, dynamism, customer relationship, adaptability, strength of proposal, availability.
INTERESTED ?
Contrat : CDI

Localisation : Paris, France

Catégorie : Agent de maîtrise

Rattachement hiérarchique : Coordinateur Service Clients

Horaires : 169h/mois – lundi au vendredi

Poste à pourvoir : Immédiatement
MISSIONS GENERALES
Assurer dans son secteur de responsabilités, au sein du service commercial d'ALGAIA, l'administration des ventes/achats/approvisionnement et la gestion des ventes en agence – distribution de produits de notre partenaire Chilien. L'équipe Customer Back Office est composée de 4 équipiers polyglottes qui apprécient de travailler dans un univers passionnant, autour d'un produit aux multiples applications.

OPERATIONS COURANTES
Préparer les imports en collaboration avec notre partenaire Chilien (conteneur, groupage, échantillonnage)
 Acheter des Carraghénanes
Gérer et piloter les stocks : stock sous douane, suivi des pénalités douanières (Espagne, Bretagne)
Saisir les commandes à honorer avec ERP SAP
Donner les instructions de transports
Procéder au dédouanement et à la facturation des lots
Suivre les coûts et relancer paiements
Mettre à jour la base de données clients
CRM Hubspot
Ces missions ne présentant aucun caractère exhaustif, il est possible qu'en lien avec l'exécution des fonctions précitées, elles puissent évoluer ou être modifiées en fonction des appétences du/de la futur(e) embauché(e) !
PROFIL & QUALIFICATIONS:
Formation BAC +2 (BTS, Assistant Export)
Espagnol et Anglais courant indispensable
Connaissances des règles du commerce international (incoterm, documentation)
Expérience dans un service import-export souhaité (candidature débutante étudiée)
Connaissance de ERP SAP est un plus
Connaissance de l'environnement industriel / agroalimentaire est un plus
QUALITES & APTITUDES:
Esprit d'équipe, souriant, dynamisme, relation client, capacité d'adaptation, force de proposition, disponibilité.
INTERESSE ?