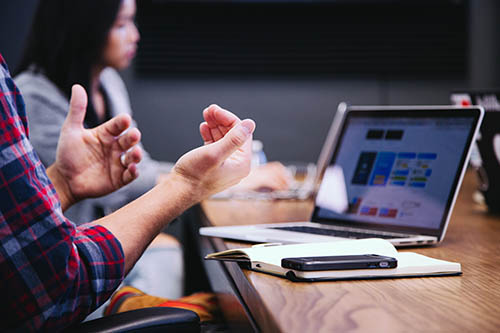 HR MANAGER/
RESPONSABLE RH H/F
Contract: Permanent

Location: Lannilis, Brittany

Category: Executive

Reporting line: CEO or COMEX member

Salary: To be defined according to profile

Position Available: Immediately
Closing of applications December 2019
GENERAL ASSIGNMENTS
Define and implement the human resources management policy
(recruitment, career management, succession plans, professional training, payroll management, etc …)
Actively participate to the strategy
Supervise the administrative management of the personnel and coordinate the activity of the HR team.
 Ensure the application of legal, regulatory and contractual provisions.
Organize consultation and social dialogue with members of the social and economic committee. Leader of the negotiation process with staff representative bodies
REQUIRED TECHNICAL COMPETENCIES
Ensuring HR regulatory intelligence and legal compliance
Managing of social relations and collective negotiations
Defining the salary policy
Setting up and managing the HR budget
Understanding and supervising payroll
Monitoring of total payroll
Supervising time management
Suggesting areas of improvement
Able to set up Career Management and Corporate Plans
Job and Competency Planning method (GPEC)

Engineering of training

Facilitating internal training
Supervising the recruitment of staff and conduct recruitment interviews
Able to manage a disciplinary record
Change management
Ability to manage projects
Piloting a quality approach
These assignments are not exhaustive, it is possible that in connection with the performance in the aforementioned functions, they may evolve or be modified according to the interests of the candidate !
PROFILE & QUALIFICATIONS:
5 year higher education diploma in human resources management
Confirmed experience of HRM
Fluent English
Sensitivity to legal framework
Knowledge of the industrial environment desired (agri-food would be a plus)
Geographical proximity to Lannilis
SOFT SKILLS:
Entrepreneurial spirit, strong emotional intelligence (charisma, relationship management, etc.), ability to work in a team, enjoying field contact,  "business partner" mindset, dynamism, adaptability, ability to propose solutions, strong negotiation skills, passion , availability.
INTERESTED ?
Contrat : CDI

Localisation : Lannilis, Finistère

Catégorie : Cadre

Rattachement hiérarchique : Direction Générale ou COMEX de l'entreprise

Rémunération : A définir en fonction du profil

Poste à pourvoir : Immédiatement
Clôture des candidatures Décembre 2019
MISSIONS GENERALES
Définir et mettre en œuvre la politique de management des ressources humaines (recrutement, gestion des carrières, plans de succession, formation professionnelle, pilotage de la masse salariale, etc…)



Participer activement à la stratégie
Superviser la gestion administrative du personnel et coordonner l'activité de l'équipe RH.
Garantir l'application des dispositions légales, réglementaires et conventionnelles.
Organiser la concertation et le dialogue social avec les membres du comité social et économique. Leader du processus de négociation avec les instances représentant le personnel
COMPETENCES TECHNIQUES ATTENDUES
Capacité à assurer la veille réglementaire RH et la mise en conformité légale
Gestion des relations sociales et des négociations collectives
Définition de la politique de rémunération
Etablissement et pilotage du budget RH
Connaissances et suivi de la paye
Suivi de la masse salariale
Administration de la gestion des temps
Proposition d'axes amélioration
Gestion des carrières et plans entreprise
Méthode de GPEC
Ingénierie de la formation
Animation de formation interne
Supervision du recrutement du personnel et conduite des entretiens de recrutement
Capacité à gérer un dossier disciplinaire
Conduite du changement
Gestion de projet
Pilotage d'une démarche qualité
Ces missions ne présentant aucun caractère exhaustif, il est possible qu'en lien avec l'exécution des fonctions précitées, elles puissent évoluer ou être modifiées en fonction des appétences du/de la futur(e) embauché(e) !
PROFIL & QUALIFICATIONS:
Formation supérieur BAC+5 en management des ressources humaines
Expérience confirmée de RRH
Anglais courant et sensibilité juridique indispensable
Connaissance de l'environnement industriel souhaité (agroalimentaire serait un plus)
Proximité géographique de Lannilis
QUALITES & APTITUDES:
Esprit entrepreneurial, forte intelligence émotionnelle (charisme, relationnel etc..), capacité à travailler en équipe, aime le contact terrain, gestion de projet, « business partner », dynamisme, capacité d'adaptation, force de proposition, forte capacité de négociation, passion, disponibilité.
INTERESSE ?