Whether you meet processing issues, raw material availability, regulatory compliance or cost efficiency issues, Algaia will collaborate with your team to provide you with most performing texturizing solutions based on vegetable gums and seaweed extracts.
We offer you laboratory capabilities with specific equipment (including pilots), an in-depth knowledge of gums and functional ingredients added to  our expertise in end-product applications and regulations. Our customized solutions or food systems are developed to enhance synergies between various natural-origin components and meet customer and market needs.
We can optimize the performance of your product leveraging the synergies between ingredients to :
–    Reduce syneresis in your product
–    Improve the heat stability in retort products
–    Adjust texture 
–    Provide pH- and temperature-versatile solutions
Need help for your formulation?
Call our experts for more information or technical assistance.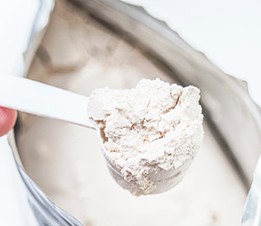 EASY TO USE READY-MADE FORMULATIONS
For manufacturing , we are able to taylor-make solutions to allow an easier processing with specific formats:
–    Dust-free powders
–    Rapid dispersibility powders
–    Anti-clogging formulations
Our range of customized  products are developed together with our customers in Europe and with the support of our European technical and commercial team under the brand names:
Satialgine™ Customized : a range designed for food applications mainly used as thickening agents
Algogel™ Customized: a range designed for food application mainly used as gelling agents
COSMOS-certified Algogel™ Customized SCG 2081 used as gelling agents for cosmetic applications